An indoor pool, whether it's at home or a hotel, spa, or gym, can be one of life's greatest pleasures or your worst nightmare depending on how well you control the room's humidity. Children and adults alike love to splash in the water and enjoy the security, comfort, and convenience of an indoor setting any time of the year. However, an indoor pool also comes with its share of challenges and responsibilities for the owner or operator, and one of those is ensuring proper pool water chemistry while maintaining a clean and inviting atmosphere.
Because pools are a major source of humidity, pool rooms can become hot, humid and uncomfortable if left unchecked.  Out of control moisture, in the air, can damage the contents of the room and your building causing mold, mildew, and corrosion to occur. The primary function of an indoor pool room dehumidification system is to control humidity thus protecting the integrity of the pool room structure.
The Importance of Indoor Pool Room Dehumidification
Using pool room ventilation, many times, isn't enough to control moisture and is typically expensive and inefficient, as you may have to pre-heat or cool the make-up outdoor air that's being drawn in depending on the climate you live in. It can increase your energy bill and may not even offer the level of dehumidification you require. Many times If you live in a humid climate, a ventilation system will bring in more unwanted moisture than you are trying to control thus compounding the problem.
A dehumidification system is the only proven system to:
Reduce Pool Room Maintenance and Repair Costs
Warm, wet, humid environments encourage the growth of mold and mildew and corrosion. The cleaning crew may have to work overtime to keep it in check on the pool deck and lounge area, but that mold can also work its way into hard-to-clean spaces, like your HVAC system. A build-up of mold can reduce your system's efficiency or cause it to break down, increasing your costs for maintenance, repair, and replacement. Unchecked mold can continue to grow causing a musty unhealthy pool room odor leading to one an overwhelming mold problem that requires expert intervention.
Control Humidity Damage
Over time, humidity can damage your walls, ceilings, doors, and more. Relative humidity needs to stay below 60% to deter mold growth both obvious and hidden in the walls and ceilings leading to costly structural repairs in the pool room. In the end, this is the biggest reason to use a pool room dehumidifier: you need to prevent rot, rust, corrosion, and paint damage.
Reduce Installation Costs
By installing a proper dehumidification system that allows you to control humidity, pool water temperature, and air temperature through one duct system, you can reduce your HVAC installation costs.
Improve Air Quality
Dehumidifiers feature air filters that remove airborne dust and some particulate matter from the air in the room. This is especially important for pools in hotels, schools, fitness centers, and more.  Controlling the moisture in the room enhances air quality by reducing foul odors from mold and mildew formation.
Dehumidification Solutions With DCA
Reducing humidity in your pool room isn't a luxury, it's a necessity. It improves air quality and comfort levels while helping you save money in the long run by reducing your problems with mold and humidity damage. If you have an indoor pool, whether it's at a spa, hotel, gym, or your own home, you need an effective dehumidification system in place. It's better for your structure and your health.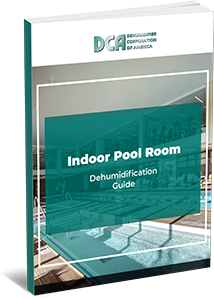 At Dehumidifier Corporation of America, we offer cost-effective dehumidification systems for pool rooms of any size. With air-cooled and water-cooled designs, we can customize your solution to meet the unique needs of your space, considering the size of the room, your temperature settings, and more.
To learn more about pool room dehumidification, download your copy of the Indoor Pool Room Dehumidification Guide, which outlines the many benefits of a dehumidification system, various types of dehumidifiers for different types of pools, the custom solutions offered by DCA, and more. Contact us if you have questions or if you're ready to install a pool room dehumidification system.
Topics: Pool room dehumidification system, Pool room dehumidifiers, Pool room dehumidifiers